How To Choose Your Breeder
NOTE:
Please note opinions and beliefs expressed here are solely of Meisterhunde Rottweilers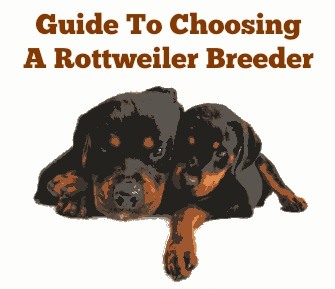 Personally I'm somewhat disappointed as to what's out there and the sorts of puppies that are bred, not to mention the HIGH prices asked for average pups.
If you paying $3500 to $4500 for a Rottweiler Puppy, then you are a fool. In 1986 I paid $1000 and I did that happily. Here in Australia, we have some of the highest prices, this is fact. Is the quality better than the rest of the world? not at $3500-$4500
Two high quality pups male and female bred by Meisterhunde Rottweilers.

The old sales tactic is to charge more for a product and the buyer thinks they are getting that much better…and the other old saying is "that a fool and their money soon part." I can tell you with all honesty I have seen better Rottweiler Puppies from first time Rottweiler Breeders that sold for $1000 that were better than $3500 to $4500 that are sold in Australia today.
Exception to asking high price would be in my book if a breeder breeds an old line or something that no other breeder has, or even a new line again that no one else has, then perhaps you can justify the high price.
And the sales pitch goes, i have spent $$$$ on importing dogs bitches semen etc and My dogs came from Germany and and they have title's. Ok, not a good pitch as I see it. Everyone has a Rott male/female origin from Germany or Europe..Big deal,.
Because a dog comes from Germany or Europe or wins shows has NO guarantee to what they can and will produce.. Breeders keep what they think is best and sell the crap. Even the stringent Breed Testing in Germany is ZERO, guarantee of breeding successes.
That is even MORE HYPE pushed upon you by the "We use nothing but PURE GERMAN ROTTWEILERS, our male is an import they say. Gimmicks used to gain more $$ from your pockets, playing on a buyers ignorance or lack of education. When the top kennels of the world are averaging $2500 – $3000, you get the idea that you are being overpriced for averaged pups.
So tell me how a breeder that breeds in their backyards to the same dog all the time can charge so much more? Exactly, my crap detector is going berserk! (Quote from Bob)
I have been to kennels and seen 5- 15 bitches all locked up and been bred with one so called stud dog, do you call this betterment of the breed, year right, I call it a puppy mill, no wonder the authorities are wanting to shut down these breeders, and rightly so.
With the creation of the internet anyone can generate a web site and make whatever claims they wish, Breeder's dress up their sites with pure crap about their dogs, there are good and bad points in all dogs, no one has bred or produced 'the PERFECT rottweiler'
Some breeder's will speak badly about others this is pure ignorance in order for you to buy from them.
I still get people client contacting me, they are flustered, confused and just plain old tired of all the games and lies and high prices for average pups.
Buyers should remember "You might be buying a Rottweiler Puppy; but you are also buying the breeder in the deal also. The puppy is nothing more than the end product of the breeder, dislike the breeder for whatever reason, well dont buy a pup as you will not be happy on the long run.
If you ever phone to make an inquiry and the breeder says 'pups are selling fast we need a deposit' walk away, hang up the phone, remember you are buying the breeder not the puppy, I repeat..The puppy is the end product of the breeder.
EDUCATE YOURSELF ON THE ROTTWEILER
I will try to take you through some of the lies, pitfalls and scams that sadly, that some breeders utilise to separate yourself from your hard earned money. On the flip side, you the buyers are ALWAYS in a HUGE hurry to be told what you want to hear and are so willing to believe it, thus falling in the trap.
Don't blame the Rottweiler Breeder if you are uneducated, gullible, afraid to say no, compulsive buyer, etc and they take full advantage of you…that is on yourself!
So research, research, study, read ask questions and lots of them.
VISIT THE BREEDERS HOME IF POSSIBLE
It is important to see the cleanliness of not only the pups, the whelp areas, dog runs…but their own personal home, trust me it tells you a LOT!! Dirty, filthy, run down, fleas, etc is a sign of a shabby breeder at their best, walk away. You will want to see where the babies are raised…remember, you are not buying a Rottweiler Puppy, you are buying a Rottweiler Breeder!
How many Rottweiler Breeders truly take the time to educate you, their client, on the breed, their program, their thoughts and where they are going, the stud, the bitch, etc? Very few…Wild crazy promises are made only to make the sale.
Okay so you/they picked a pup for you and price is set, then you are told that the puppy is on a limited register or on breeder's terms as they like to call it. Than a 5 page contract will come out with what you can and can not do and you have to sign and obey by.
WHAT you ask, WHY? Well the breeder wants to control what you can and cannot do with you pup. So you paid the big bucks but you have no say as to whom and when you can breed in this case your bitch with. Yes the breeder wants that right; the breeder wants to breed your bitch for their own gains. But supposedly the bitch is yours, you feed it and care for it, do the hip and elbows and then your breeder will breed your bitch, come on please, please don't be that gullible, really.
Having said all this, sometimes this sort of agreement can work, so know your breeder and know the lines and what you want your pup for ask lots of questions read the small print. Yet time after time I talk to people where they have come unstuck with these sorts of contracts/agreements.
In conclusion you the buyer need to do some research and compare a breeders who breed for a living or a breeder who does it as a hobby and a passion for the breed, more to the point, choose a breeder you feel comfortable with.
Well bred pups that went on to be Champions
Quality breeding's do not happen by accident..
CONCLUSION
In down economic times, some breeders are notorious for heaping down their breeding's in an effort to conserve money and risk. The level of play to separate you from your hard earned money is very high.
Hopefully we have provided to you some answers, questions and food for thought. We all have faults in our lines its recognising these faults and working on improving them is the key to better breeding.
Again I emphasise that this is my opinion based from my own experience being in the breed for some 30 years. (some abstracts/quotes from Bob Flyn, a good breeder)
Is there good breeders out there?
It's your job and duty as the buyer to search them out.