Congratulation on your decision to purchase a Meisterhunde Rottweiler puppy and welcome to our family.
Please note.. Only after you are on our books will visiting us be possible, once you commit to us, we commit to you, and this way we weed out the window shoppers and time wasters.
Pups need to have had their 1st vaccination (6-7 weeks of age) then it will be possible to come and visit the puppies. (this can be varied)
3 Easy steps to make buying a puppy a simple & pleasurable experience.

Step 1: To get on our books and for us to hold a reservation for you, a $1,500 minimum deposit is required.
Our quality pups are $4 k with registered MDBA pedigree papers, or $4.5 k for pick of the litter pup, full registered MDBA pedigree papers. You choose.
We also require your full name, address & phone No and a bit about the qualities you would like in your pup.
Pls remember, if you simply change your mind later, deposits are non refundable, so choose carefully.
Once you are on our books you are guaranteed of a pup closest to your time frame as possible. We will notify you when a pup becomes available. All updates of litters born etc are posted on our FB page. In the event a suitable puppy is not available from the litter for whatever reason, these include and not limited to the following (Not enough pups, no pups, not the desired sex, death of pups) the deposit was intended for, this deposit is good for any mutually agreed upon future litter, or credit towards the purchase of a youth or adult dog or towards a stud fee to any male we own. This deposit/money paid does not expire. Same will apply for payments made in full.
You may also choose to pay your pup off while waiting. By time the puppy is 6 of age, we require the remaining balance to be paid in full. If your pup is not fully paid for by 6 weeks, your pup will go to the next person on our books and you will be placed on the next upcoming litter. Also between 6-7 week mark pups will have their 1st vaccination and be microchipped, vet checked and 100% certified healthy or they will not be sold. All through this process you will get plenty of pics and we will keep you in the loop.
Step 2: At 7 weeks of age we temperament test the pups for the final time and help you choose the correct pup for your needs. With our breeding experience, we feel we are most qualified to recommend the right pup for you. We are with the puppies constantly for the first 8 weeks of their life and know their personalities and temperaments better than anyone else. We've been selecting puppies for our buyers for many years. However we will work with you in this whole selection process, you will get plenty of photos and say along the way and know how the pups are coming along, and you will be very much involved in the choosing process.
Step 3: At 8 weeks of age, your puppy will be shipped to you (at own expense, all interstate pups will fly out. Airport to airport service) Victorian buyer can pick up their pup from our home. You will also get a diet/care sheet of what we feed our pups, worming info, papers if available at that time, as well as the vaccination card, health certificate along with the microchip form.
—————————-
You are purchasing a top quality, well bred, well socialised, mentally and physically sound Rottweiler puppy from some of Germany's and Europe's best blood lines.
We offer lifetime breeder support and are available to our puppy buyers 24/7. We strongly recommend you feed & care for your puppy as outlined in our diet/care sheet you will get with your puppy.
We care about where our puppies go and would like to be updated on a regular basis on their progress. We can help with any training/behavioural issues, health concerns, nutritional questions, breeding advice as well as any other questions/concerns that may arise. Our goal is to have long-term, happy clients/friends. A well bred pup is not expensive, its priceless…
Click on make a purchase button below and reserve your pup now..
---
Below here is a small sample of the quality you will get from us.
The below is self-explanatory don't get caught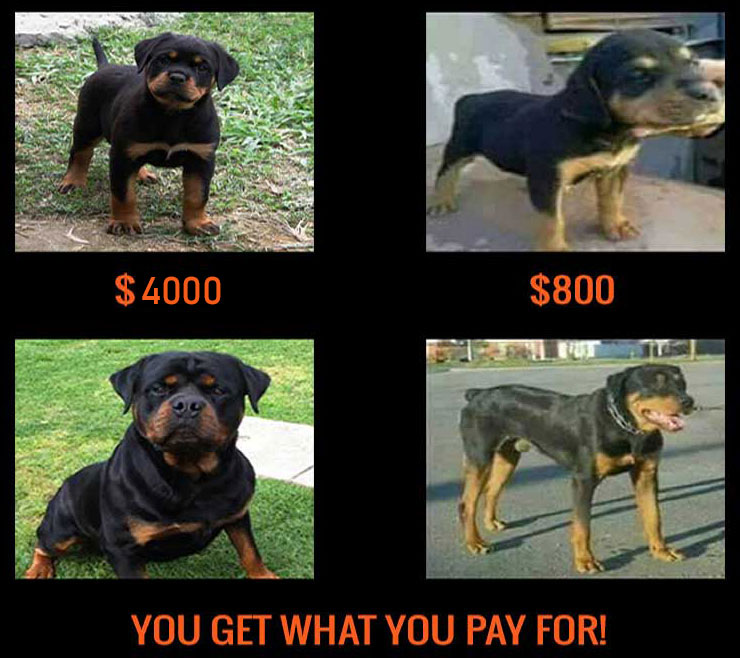 See what our customers have to say about us TESTIMONIAL PAGE